THIS MONTH'S NEW RELEASES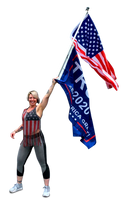 WHATS UP MUTHAFUCKAS!
You asked and now you will receive. Welcome to the @RealTina40 shop. We will be constantly launching new products including custom designs and fan-favorites! If you have some "gotta have its" @ me on Social Media - together our voices will ALWAYS be heard! TRUMP 2020 MUTHAFUCKA FUKOUTTAHERE!!!!